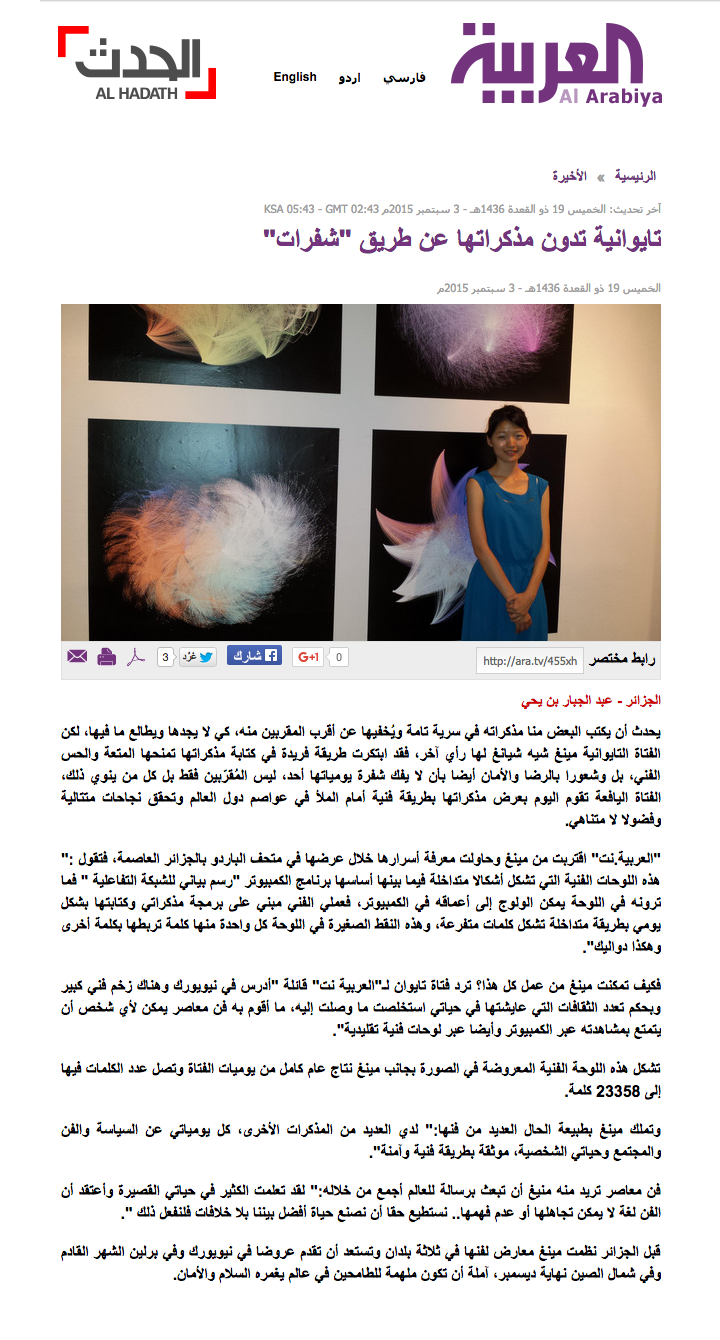 Exclusive Interview
by Al Arabiya News
Taiwanese Memoirs Recorded by way of "Blades"
September 3, 2015
Algeria – Ben Yahia Abdul-Jabbar
Some people write their memoirs in complete secrecy, hidden from even those who are closest to them, so that no one can find or read it. But the Taiwanese girl, Meng Chih Chiang, had a different idea. She has devised a unique way of writing her memoirs in a fun and artistic way, hence allowing her to feel her own way of crafting. Her memoir is secure/decrypted like a diary, but that was not her intention. Today, the young girl is presenting her artistic memoirs in the capitals of the world, with consecutive successes and infinite curiosity.
"Al-Arabia.net" approached Meng Chih during the display of her work in the Bardo Museum in Algeria in attempt to uncover the secrets behind her work. She says: "The pictures are made of overlapping forms. They are computer-generated graphs produced by an interactive network program. What you see in the painting comes from the depths of the computer and its power. My work is based on technical programming and writing my memoirs on a daily basis and therefore connecting separated words. The small blobs in the painting represent each word being linked with other words, and so forth. "
How was Meng able to create all this? The Taiwanese artist told Arab News: "I study in New York where there is a big technical momentum and by way of the diversity of cultures that I've encountered in my life so that is how I reached this art form. I am creating contemporary art for everyone to enjoy watching on the computer or across traditional art boards."
The painting displayed in the picture next to Meng is the result of a full year of her diary and consists of up to 23,358 words overlapping within. Also, Meng has many other pieces of art and adds: "I have many other memos, all my views on politics, art and society and my personal life, are documented via an artistic manner so to speak".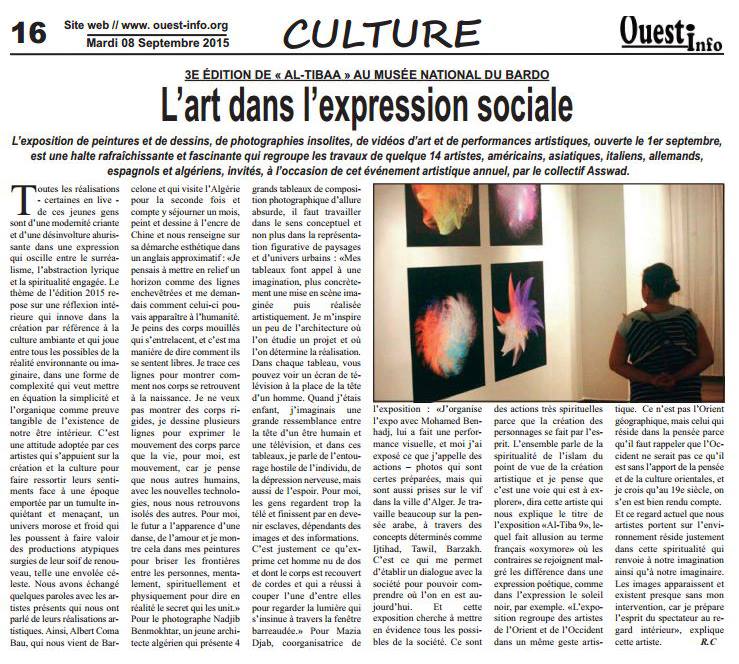 Ouest Info
3rd Edition of "Al-Tibaa" at the Bardo National Museum
Art in Social Expression
by R.C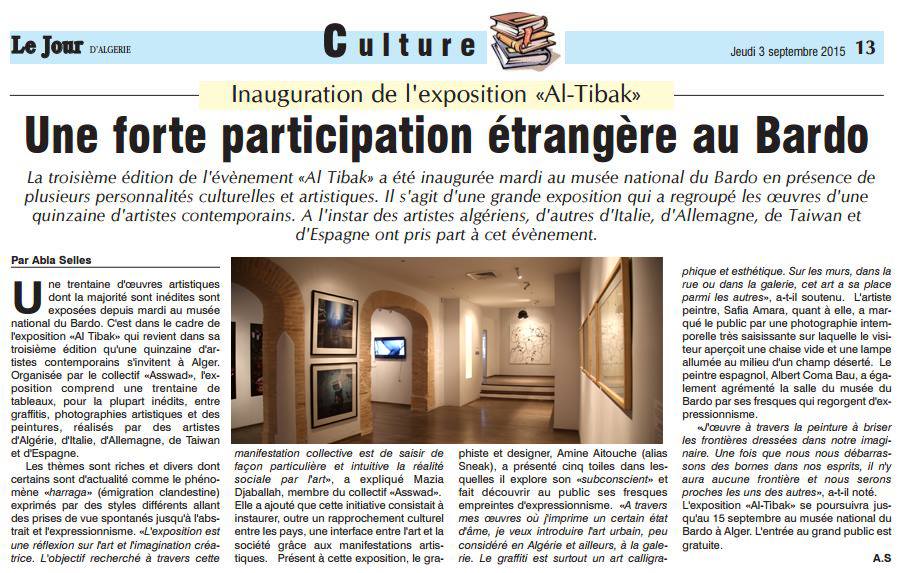 The Day Algeria (Le Jour d'Algérie)
A strong foreign participation in Bardo
by Abla Selles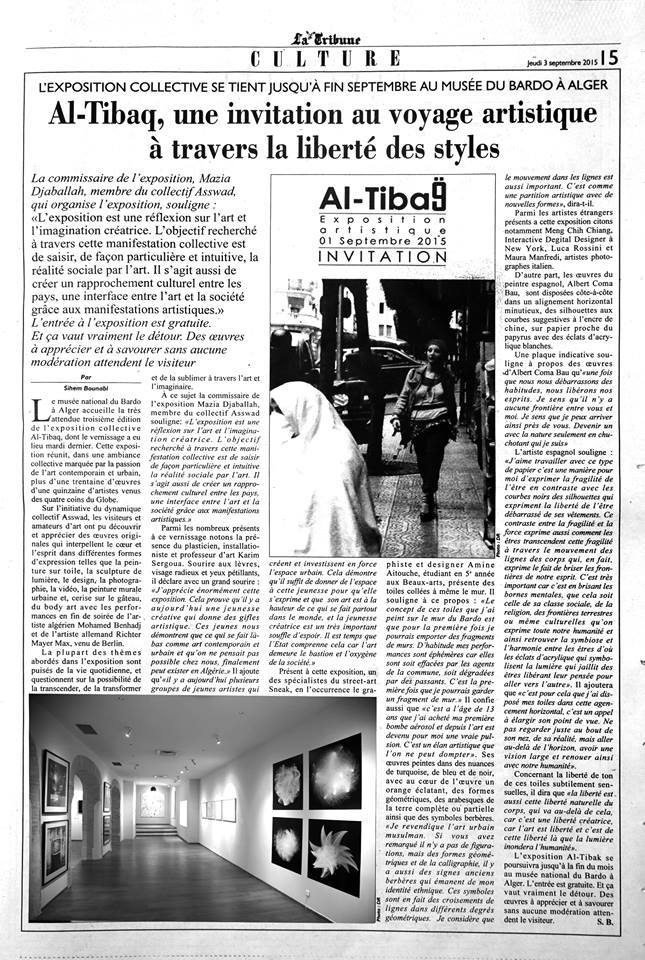 La Tribune Journal
COLLECTIVE EXHIBITION HELD UNTIL END OF SEPTEMBER AT THE MUSEUM BARDO IN ALGIERS
Al- Tibaq, an invitation to journey through artistic freedom
By Sihem Bounabi
The curator of the exhibition, Mazia Djaballah, member of the collective Asswad, which organizes the exhibition, said: "The exhibition is a reflection on art and creative imagination. The goal throughout this collective event is to capture, in a special and intuitive way, social reality through art. It is also creating a cultural reconciliation between countries, an interface between art and society through artistic events." Admission to the exhibition is free. And well worth a visit. Works to appreciate and savor without moderation awaits visitors.
Among the notable foreign artists present in this exhibition are Meng Chih Chiang, Digital Interactive Designer in New York, and Maura Rossini Luca Manfredi, Italian artist photographer.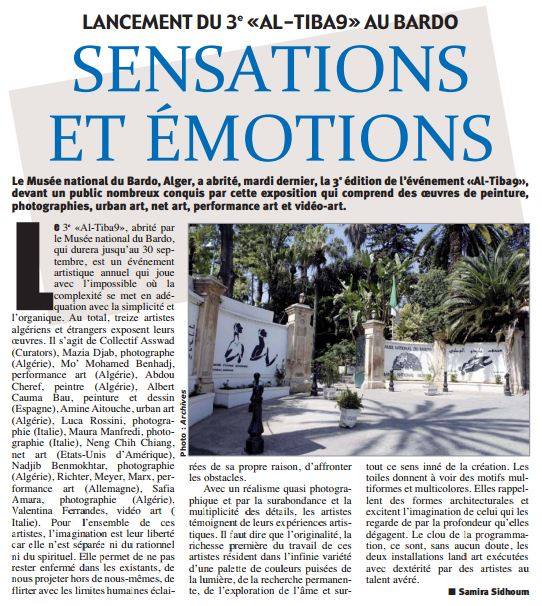 Horizons
SENSATIONS AND EMOTIONS
by Samira Sidhoum
The third "Al-Tiba9" hosted by the Bardo National Museum, which will last until September 30th, is an annual art event that plays with the impossible complexity that goes in line with the simplicity and organic. In total, thirteen Algerian and foreign artists exhibit their works, including Asswad Collective (Curators) Mazia Djab, photographer (Algeria), Mo 'Mohamed Belhadj, performance art (Algeria), Abdou Cheref, painter (Algeria), Albert Cauma Bau, painting and drawing (Spain), Amine Aitouche, urban art (Algeria), Luca Rossini, photography (Italy), Maura Manfredi, photography (Italy), Meng Chih Chiang, net art (United States), Najeeb Benmokhtar, photography (Algeria), Richter, Meyer Marx, performance art (Germany), Safia Amara, photography (Algeria), Valentina Ferrandes, video art (Italy). For all of these artists, imagination is of freedom because it is neither rational nor separating from the spiritual. It is not to stay confined in the existing, but to project us outside ourselves, to flirt with the enlightened human limits of his own reason, and to face obstacles.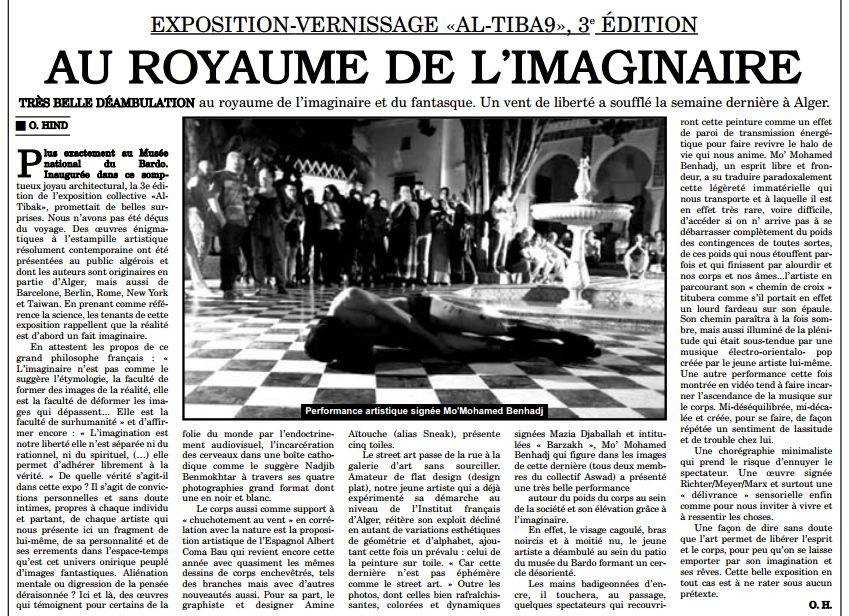 L'Expression News
EXHIBITION OPENING "AL-TIBA9" 3RD EDITION –
In the realm of the imagination
by O. HIND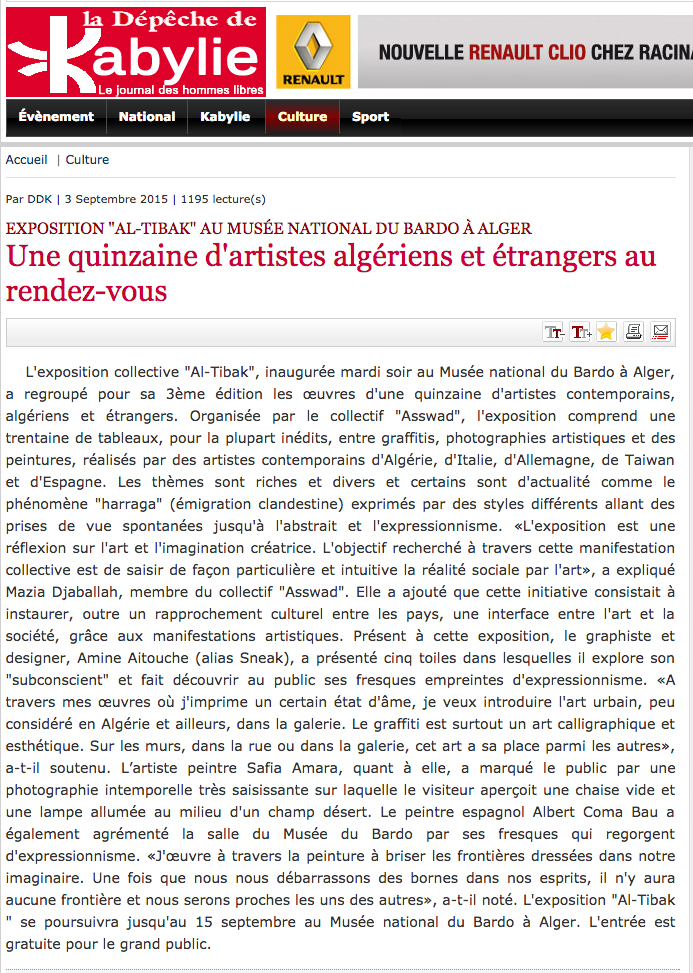 La Dépêche de Kabylie Journal
Exhibition "Al-Tibak" at the National Museum of Bardo in Algiers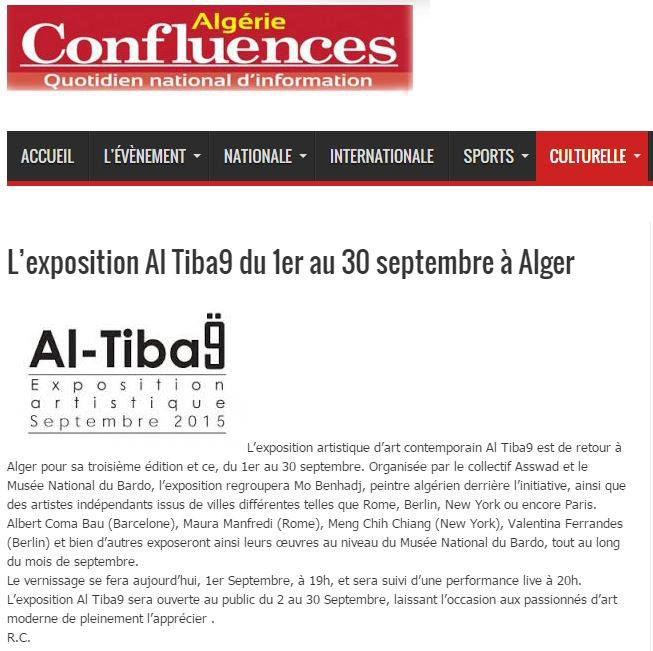 Algerie Confluences
The Al-Tiba9 opens from September 1st to 30st in Algiers
by RC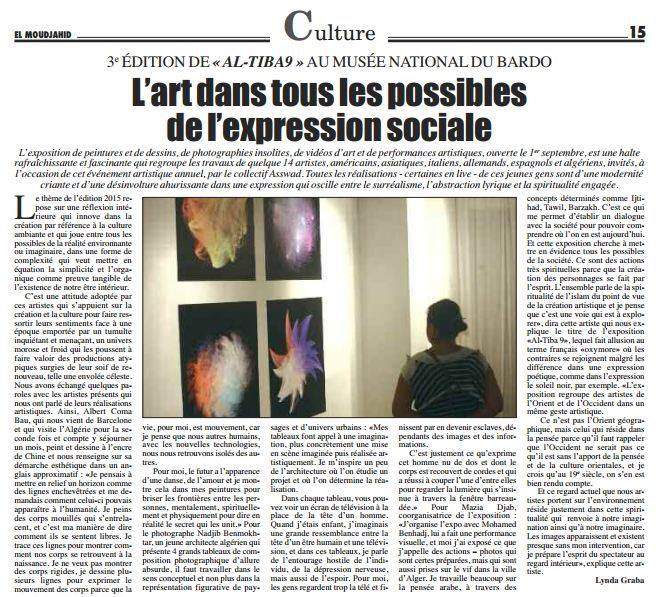 El Moudjahid Daily News
3rd edition of "Al-Tiba9" at the Bardo Museum: Art in all the possible social expression
by Lynda Graba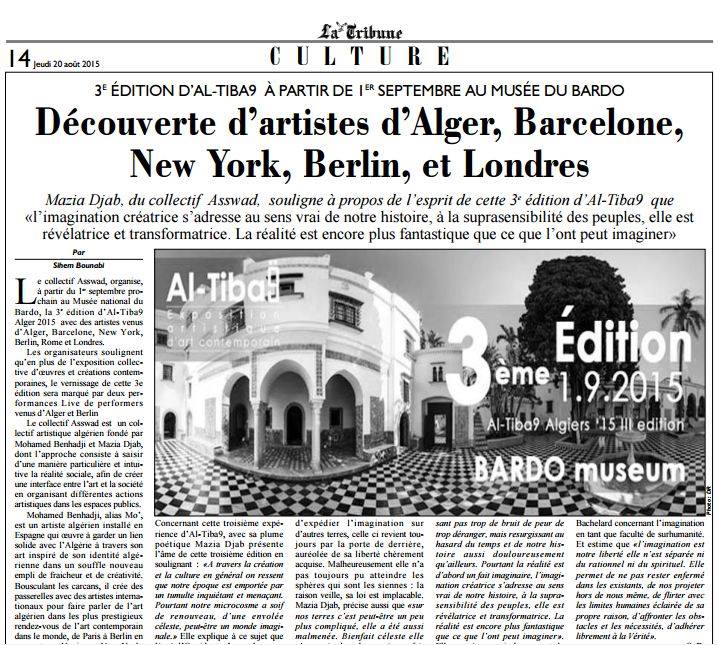 La Tribune Journal
3RD EDITION OF AL-TIBA9 FROM SEPTEMBER 1 AT MUSEUM BARDO
Discover artists Algiers, Barcelona, New York, Berlin, and London
by Sihem Bounabi

School of Visual Art, MFA Computer Arts Blog
MFACA ALUMNA MENG CHIH CHIANG SELECTED FOR AN EXHIBIT IN ALGIERS
Meng Chih Chiang (MFA 2013 Computer Art) and her thesis project "A Stranger to Words" was officially selected in the 2015 Al-Tiba9 International Exhibition of Contemporary Art at Bardo National Museum, Algiers, Algeria. The Al-Tiba9 International Exhibition of Contemporary Art, is an exhibition that plays with the impossible where complexity equates with the simplicity and organic to the actual can "be". The show exhibits many artists, photographers, performers and creatives worldwide without limits of age or techniques and contains an exciting and profound mix of contemporary languages and fit into Al-Tiba9 perspectives. It was an honor for Meng Chih's "A Stranger to Words" to be included in this monumental event.
Journalist Ben Yahia Abdul-Jabbar gave a positive review for "A Stranger to Words" in Al Arabiya News. "It presented her memories in an artistic way to public and achieved consecutive successes and infinity curiosity.", Ben Yahia Abdul-Jabbar stated.
"I had a great time to participate in Al-Tiba9! This week was extremely busy juggling between exhibition installation, interviews and meetings. I'm so happy to exhibit with so many talented and prestigious artists from all over the world. Their works are so different in both concept and content, and all of them inspired and intrigued me to explore more about their cultures and perspectives" – Meng Chih Chiang
Meng Chih said of her experience: "I was truly grateful to be selected as a featured artist in 2015 Al-Tiba9 International Exhibition of Contemporary Art. It's not only a totally exotic culture but also an unforgettable experience to be part of this exhibition. It was a little bit unsure about going to an unknown area, especially such a mysterious country in Africa. But I'm glad having courage to take the challenged mission. It's a journey with hospitality, possibility and creativity…. and a lot of crazes! Thanks all of you who help me to achieve the goal of exhibiting "A Stranger to Words" in Al-Tiba9. This significant event has broadened my horizon and create renew insight in arts and new media."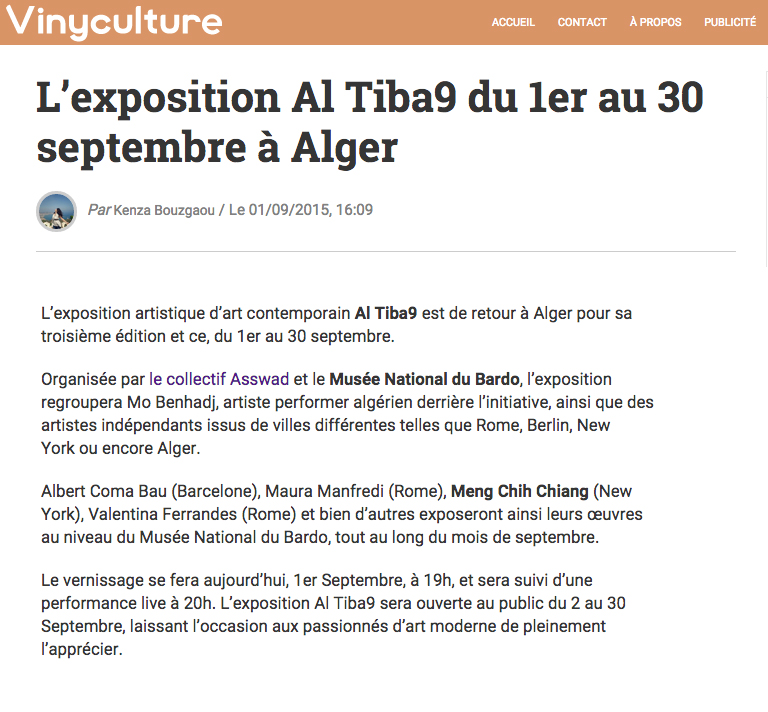 Vinyculture Magazine
The Al-Tiba9 opens from September 1st to 30st in Algiers
by Kenza Bouzgaou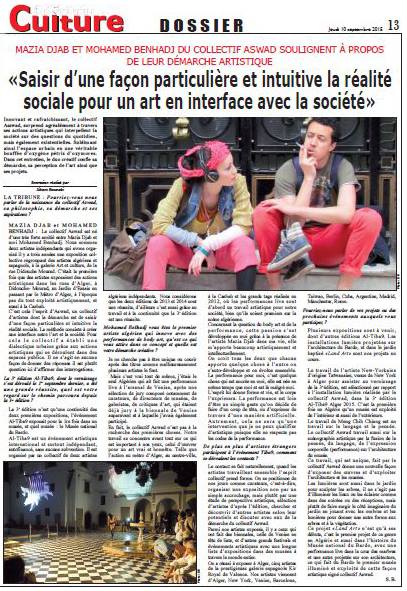 La Tribune Journal
Enter a particular social reality and intuitive way to experience an art society
by Sihem Bounabi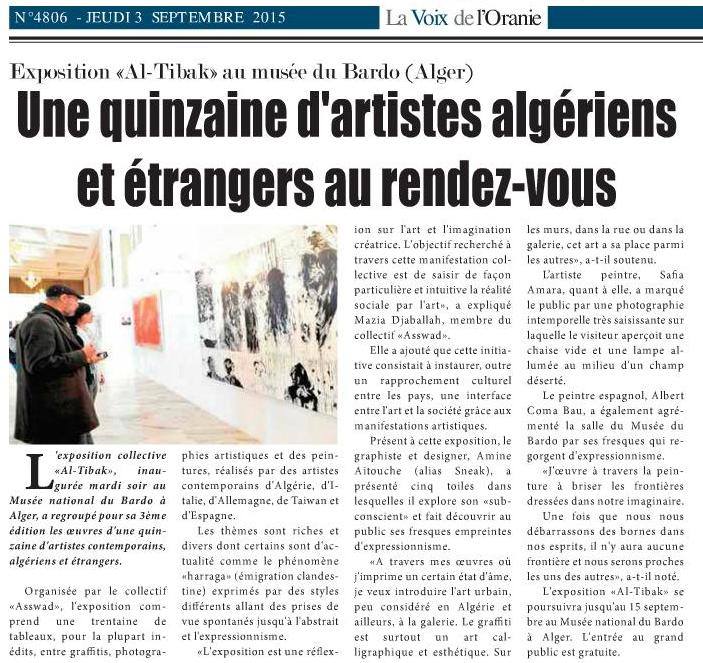 Voice of Oran Journal
Fifteen Algerian and foreign artists to exhibit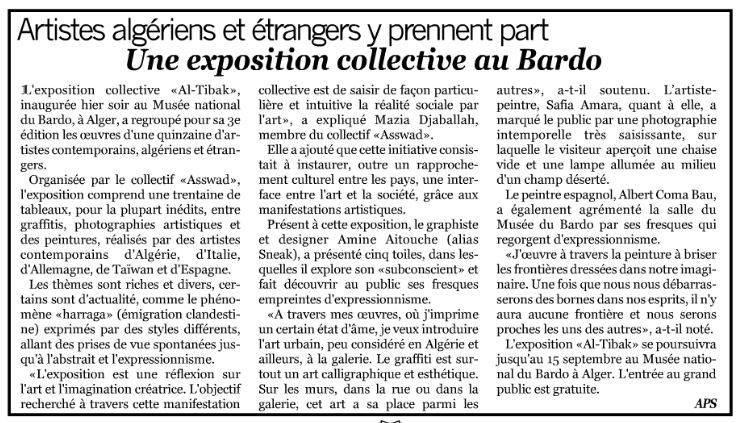 Info Soir
Algerian and foreign artists hold group exhibition in Bardo
by APS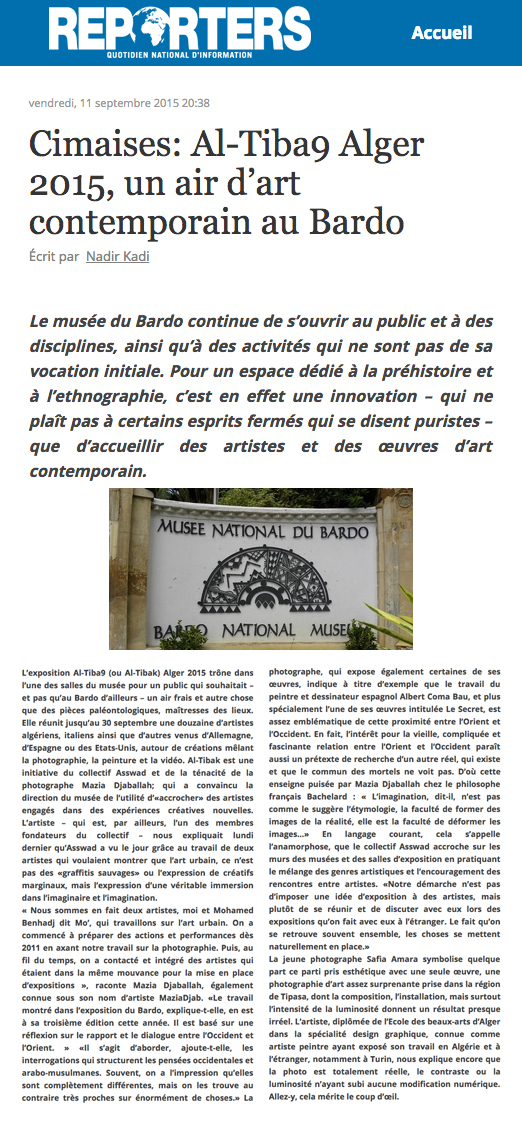 Reporters
Al-Tiba9 Algiers in 2015, a contemporary art fair in Bardo
by Nadir Kadi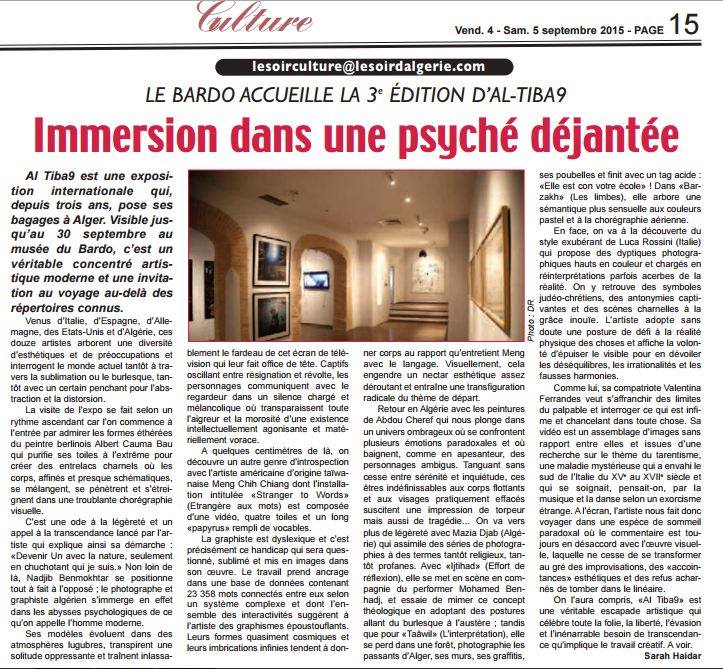 Algeria Evening News (Le Soir d'Algérie)
Culture: The Bardo hosts the 3rd edition of Al-Tiba9
Immersion in a crazy psyche
by Sarah Haidar


Algeria Press Service
Exhibition "Al-Tiba9" fifteen Algerian and foreign artists to exhibit